Next level feline pampering with our
Luxury Boarding
Your cat's needs are at the forefront of our mind when you board them at Cats Exclusively. Your cat will feel comfortable in his or her own kitty condo, ensconced in a quiet atmosphere with natural lighting and independent ventilation. Each condo is outfitted with cozy bedding and a natural place to perch so that your cat will feel safe while viewing the interactions of staff. Our spacious multi-story suite can even accommodate multiple cats from the same family so there's no separation anxiety while you're away.
Whether it's your cat's first time or fifteenth time boarding with us, we always welcome any questions or concerns you may have. If your cat is on medication we can administer it safely. Our highly trained staff is on hand to make sure they are properly dosed and you have the added comfort of knowing that if a rare emergency situation arises, the doctors are just feet away. Your feline family member is safe with us and will be extremely well taken care of while you are away.
As a bonus while your cat is boarding with us, consider scheduling any routine services he or she may need like grooming or dental cleaning. It's much easier on you and your pet than having to return for a separate visit. So take that trip out of town and feel at ease knowing your cat will get lots of attention during his or her stay because...we love cats as much as you do!
Estimated Daily
Boarding Rates
Our prices naturally vary based on the number of cats, the type of condo you choose, and any extra needs your cat may have. Please call us at (585) 248-9590 so we can assist you in providing an accurate cost that reflects your unique situation.

To save time when you drop off your cat, we invite you to fill out a Boarding Release form located on our Forms, Guides & Links page.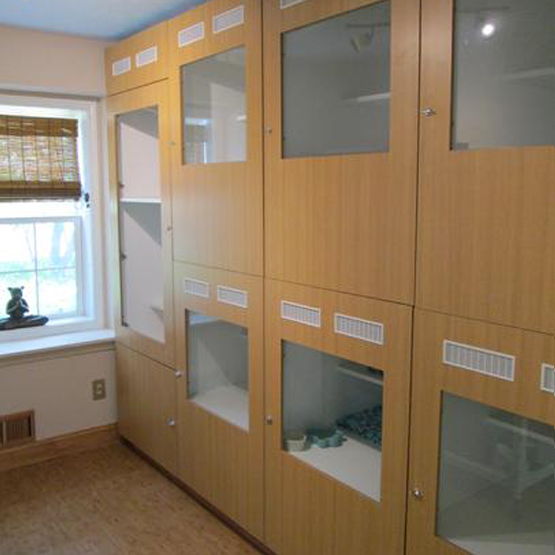 Comfort & Coziness
Quiet Atmosphere
Attention & Care
Safety